Overview
Havering Council provides a wide range of services to our communities, spending more than £180 million every year.
The Council is facing a £31.2 million budget gap (before council tax) in the next year and we must find significant savings in order to set a balanced budget, which we must do by law each year. Even with the difficult proposals put forward in this consultation, the Council still has a budget deficit of £12 million.  Havering is in this position as the funding we receive no longer meets the rising costs and the borough's changing demographic profile.  
In 2010, the Council received £70 million of Revenue Support Grant, but we now receive under £2 million – Havering's core grant is the third lowest in London which is why our financial position is so challenging. The funding formula used to determine our grant from Central Government has not changed in the past decade, while our population has become much larger.
The Council runs a large number of services. Some of these services, called statutory services, are ones that we must provide by law. Others, called discretionary services, are ones we choose to provide. We know many of our services are highly valued by our residents but, as in recent years, we know we will have to make some difficult decisions during the setting of the budget to ensure money is directed to where it is needed most.
We have one of the oldest populations in London together with the fourth fastest growing child population in the country.  This has created a huge demand and pressure on both adults' and children's social care services, meaning 70% of the Council's budget is spent on delivering social care, which by law we must provide.  We know that the proposals in this consultation will mean significant changes to what we do and how we do it, and that those changes will impact many residents.
This consultation comes as the Council and our communities are feeling the effects of additional social and economic pressures – some of which have been made worse by the COVID-19 pandemic and the ongoing cost of living challenge.  These include rising costs, unprecedented demand for services like health and social care, rapidly increasing homelessness and demand for social housing, together with the huge change in our population.
Over the past 10 years the Council has made around £160 million in savings, so future savings will be more difficult.
Why your views matter
As we move towards setting the budget for next year, we are very keen to understand the views of our residents and key stakeholders. We are launching this budget consultation to give you the chance to tell us your views on how our proposals might impact you, the people you know and your communities.
This is a general consultation on the overall council budget for the financial year 2024/25.  In some areas, more detailed consultation will follow later.  Your feedback is important to us and will help us decide which services you value and where we should look for savings.  We invite you to join us at these scheduled events: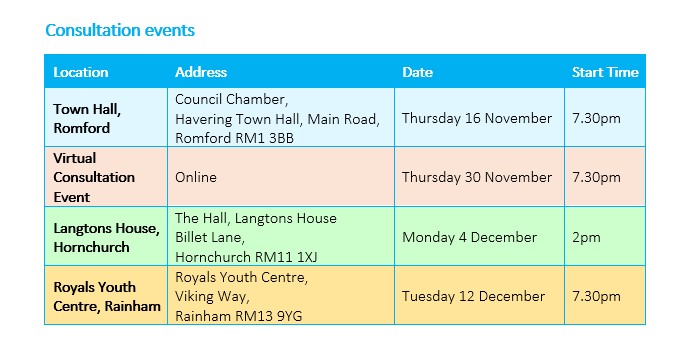 Booking link for the virtual (online) consultation event, 30 Nov
Booking link for the consultation event at Langtons House, 4 Dec
Booking link for the consultation event at Royals Youth Centre, 12 Dec
This questionnaire should take no longer than 15 minutes to complete. For any questions regarding this questionnaire or to request a paper copy, please email Budget2024@havering.gov.uk.  You can also collect and complete the paper questionnaire at your local library.
For further information about how we handle your personal data please see our Privacy Notice.
Please see below for links to the detailed savings proposals set out in the Cabinet Papers for 8th November 2023. 
This consultation will close on 18 December 2023.
Children and Young People
We have now launched a special version of our Budget Consultation, just for children and young people aged under 18, and up to age 25 with special educational needs.  Please visit this link to take part.