Overview
The COVID pandemic has resulted in additional demand on local government which could not have been imagined when the 2020/21 budget was set in February 2020. The Council has acted swiftly and robustly to a series of new challenges to shield and support our most vulnerable citizens.
As part of this, working with the voluntary sector, we have supported many residents and businesses. We have contacted over 10,000 residents with over 17,000 phone calls with 2,700 residents receiving food deliveries pharmacy items and doing odd jobs as necessary. In addition, the Council provided more than 850 food parcels and managed the distribution of PPE across care homes, funeral directors and the Council itself.
Here is a snapshot of this support: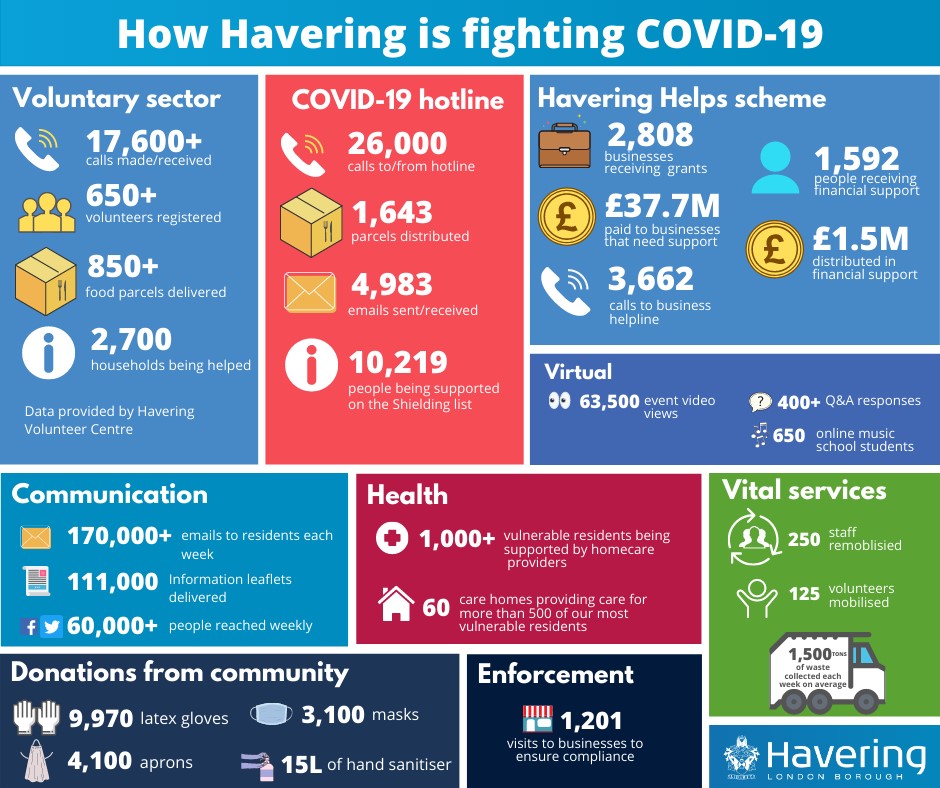 Demand for Council services has also changed dramatically. Most services restarted following the lockdown, but reduced capacity due to social distancing rules, has meant demand has gone down while costs have increased due to the need for PPE and physical changes to protect staff and residents. 
We know that some impacts from the crisis have yet to be felt in full. We have now seen a second spike in cases and it is likely that there will be further waves of COVID. This means we will continue to support our most vulnerable residents, thinking about the recovery of our economy, our communities and our public services.
As the second wave of the pandemic gathers pace, we are also seeing a move in Government to devolve responsibilities to local government to deal with introducing measures to reduce infection rates, such as track and trace, and the responsibility to provide support for the most vulnerable people in our community, such as the provision of food supplies and well-being support.
Why your views matter
As we move towards setting the budget for 2021/22, we are very keen to understand the views of our residents and key stakeholders. We are launching this budget consultation paper to give as many people as possible the opportunity to say how the pandemic has affected them. We are interested in pressures and hardships you may be experiencing and how you believe the Council can help and support you in the next year.
We will take into account all views in the budget setting process with the aim of setting a budget for 2021/22 that truly understands and supports the needs of our residents. The outcomes from this will also feed into the longer term plans and strategies for the Council over the next few years
The COVID outbreak has had huge impact on the country, day to day lives and the economy. We want to know what you believe are the biggest challenges the Council faces and how we should prioritise our resources to meet those challenges.